OUR STORY
UNITING DIVERSITY THROUGH MARCUS ELIZABETH
Welcome to the enchanting world of Marcus Elizabeth, a brand born from the visionary mind of fashion designer Angelo Carlo Marcus Elizabeth on 20-2-2020. At Marcus Elizabeth, inclusivity takes center stage, as we celebrate and fuse the rich tapestry of cultures and backgrounds within the Dutch Kingdom.
Marcus, drawing inspiration from his vibrant Caribbean heritage and the cherished memories of his island haven in Curaçao, infuses his collections with an irresistible blend of artistry and soul. Each creation is a testament to the beauty of diversity, where threads of different cultures intertwine, weaving a harmonious narrative that transcends borders and unites humanity.
At the heart of Marcus Elizabeth, lies the crowning jewel of Marcus's artistic expression - the exquisite "Marcus Elizabeth Anagram Logo." Beyond a mere logo, this masterpiece unveils a profound symbolism. Within its meticulously entwined letters, flowers gracefully embrace one another, their delicate forms capturing the essence of unity and harmony. Like a Tulip, gracefully blooming in the Netherlands, and a resplendent Hibiscus Flower, reflecting the spirit of Curaçao, this artful fusion becomes an emblem of cultural interconnectedness and the power of embracing our shared human experience.
Marcus's creative prowess knows no bounds, for he is a true chameleon of the arts. Beyond fashion collections that ignite the imagination, Marcus Elizabeth extends its embrace to museum exhibitions, captivating perfumes, and beyond. With every venture, Marcus strives to enrich our lives and kindle the spark of unity that resides within us all.

Unite. Create. Inspire.
Amsterdam - NL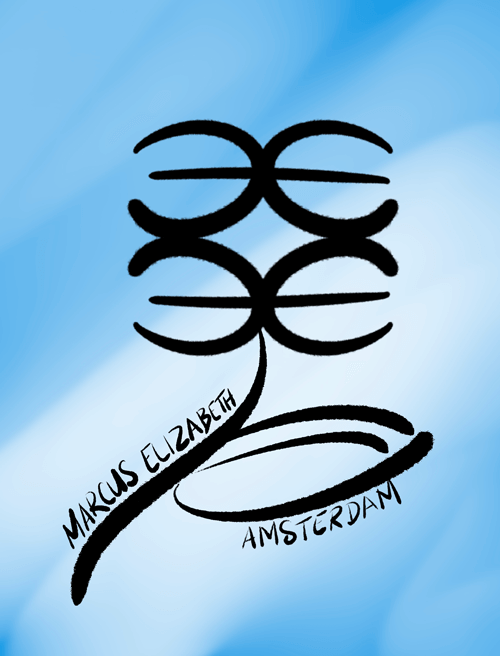 THE DESIGNER
MARCUS ELIZABETH
Angelo Carlo Marcus Elizabeth was born and raised in the Caribbean island of Curaçao in a strict environment, but he was given the opportunity to study and develop himself thanks to his grandmother's support. He eventually moved to the Netherlands to continue his studies and was exposed to a whole new world of possibilities.
In 2013, Marcus entered the fashion industry as a content creator and gained unique experiences and insights into the high-end fashion world. He later enrolled in fashion design and styling course at the prestigious Academy Artemis in Amsterdam, where he developed his own approach to fashion. His inspirations come from his Caribbean heritage, his love for the multi-cultural city of Amsterdam, nature and fine art.
After completing high-end handbag making courses in London and graduating at the top of his class in Amsterdam, Marcus decided to share his creations with the world.